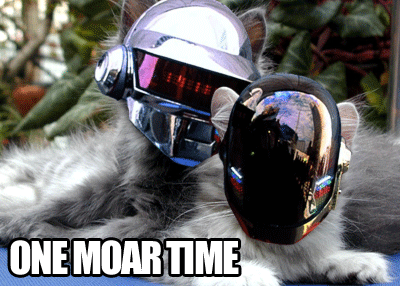 Credit to Jeph's LJ from QuestionableContent.net (Best webcomic out there. READ IT!) for this one. I mean I'm not sure if there's anything better than lolcats and Daft Punk combined. Except probably like cold beer and a baseball game. Man I can't wait for the Sox to come into town.
Anyway not much else to report. I've been keeping up my work-out routine and smartER eating habits (not quite where I want to be on that front yet though) and I just recently got my first 2 comments which made me feel great. Definitely good motivation.
School starts the 25th and I'll probably be commuting for at least the first month or so which sucks the way gas is.
Oh and my sorta-cousin from Mexico is living here now. Well he just got here and barely started buying things and isn't really settled in, but will be soon.
Oh and the big event looms on the horizon...the wedding...
Current Mood:

accomplished